Outline:
The concept of a relationship
Relationship components
Relationship levels
The difference between relationship compatibility and relationship chemistry
Roles in a relationship
Happiness Capsule in a relationship
Conducted By: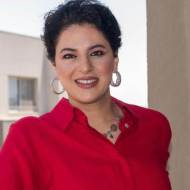 Rania Abdel Ghafar – Life Coach & Happiness Educator
Rania is a Multiple Intelligence Trainer and Consultant with a specialization in Social and Emotional Intelligence. With more than 20 years of experience in the field of Adult Education and Training, Rania, a holder of a Masters' degree in Education, a Mini Masters in Human Development, and a Bachelor's degree in English Language Studies, is also a certified ISEI Assessor and Trainer from the Institute for Social and Emotional Intelligence and a certified SEI, SEIYV, SEI360, and Vital Signs Assessor by Six Seconds Organization. Rania has made it her mission to help others discover and develop themselves whether in their careers, or in their personal lives.
Date & Time:
Saturday, Oct. 17th
10:00am – 01:00pm
Location:
Online via Zoom (details to be sent after registration)
Fees:
400L.E (via Fawry or credit/ visa Card)
Deadline for payment Wednesday, 14th of Oct.
For Inquiries:
Email: [email protected]